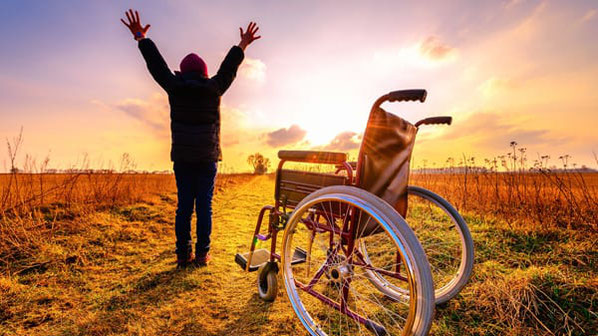 Meeting an angel <<< Beginning of the story
We returned a few weeks later to Ukraine. After such a miracle, we had the feeling that now everything is possible!!! In Tel Aviv, it was +27°C and when we flew to Ukraine it was -5°C. I immediately fell ill, but this disease was not associated with the common cold, it was a demonic attack that was accompanied by a high fever. I could die, my skin color was like that of a corpse. My wife began to ask everyone she knew to pray for me. After 2 weeks, somehow I began to recover, but still felt some kind of weakness in the body. And then I found out that Benny Hinn is coming to Kiev. I prayed and asked God; "Should I go or not?" And God answered; "Come on, I'll give you a divine meeting!" And I thought; well, for sure Benny will pray and I will become completely healthy! And we went to Kiev and rented a hotel not far from the conference venue. Three days passed and nothing of the kind happened. I waited because I definitely heard from God! And then the conference ended, and we went to the hotel to pick up our things. I was expecting my wife in the lobby with our things. She at that moment went to the ladies room, and suddenly I saw a young man bringing a woman with a curved spine in a stroller. And God tells me; "I want you to pray for her." I answered; "Lord, I need someone to pray for me!" God says; "No, you must pray!" And then I thought; yes, if she was in the service of Benny Hinn and was not healed, then who am I to pray? It was a fierce war in my mind! And then, I said to God: "Well, I'll go and offer a prayer, but if they refuse me, then I wash the hands!" I came up and asked if they came from the conference? And they answered: yes. Then I asked permission to pray? And the woman immediately agreed, but the man did not really want to.
After we decided to go up to their room, I asked the man: Does he believe that God can heal his mother? The man answered that he did not believe at all! And then I was full of confusion. I just did not quite understand what I should do next. I had to trust God! When we transplanted that woman to the bed, I found that her left leg was shorter by 10 cm. I took her legs and ordered her leg to grow, her leg immediately grew. It was amazing to watch in slow motion. And when I put my hand on the spine, I felt like my hand pressed in on the spine and it leveled off. This woman got out of bed instantly and began to clap her hands and walk around the room and praise God. But her son's reaction simply shocked me. Her son without emotions brought me to the elevator and very modestly said thanks. And I asked him: "Where did you come from?" And he replied that they came from Frankfurt am Main (Germany). I was so filled with the Holy Spirit and glad of what had happened that I did not ask his name, and at that moment it was not at all that important to me. But after a long time I thought about the reaction of that woman's son and I came to the conclusion that he was a Muslim. Of course, I could be wrong! So my dear listeners, God recently wants to shift the emphasis from the anointed to the sons of God! You are the sons of God! You are the daughters of God! You are the anointed if you only hear what God tells you personally. Therefore, do not be afraid to obey Him! He loves you!!!