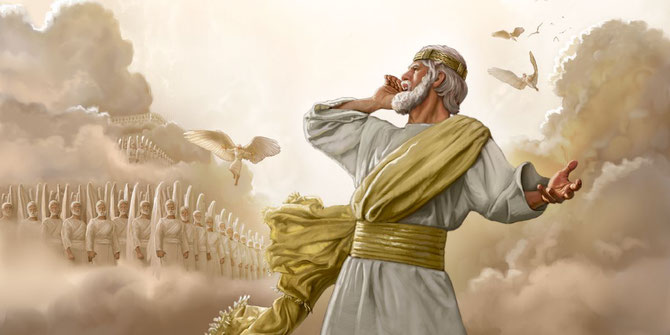 The story that happened to us was not so long ago, it is really amazing! I will try not to add anything of my own, but to tell you how it really was!
You can see the photo in the article: Israel in my heart
Israel is the dream of decades, we prayed for a long time, but did not see the opportunity to visit Israel. On the eve of 2016, God specifically said that this year we will be in Israel. We began to pray for Israel almost every day, we felt that it was possible, but there were no finances for the trip. After consulting with my wife at the end of the year, I decided to take a step of faith by buying tickets for a flight. We had one friend in Israel who helped to arrange accommodations for $25 per person (and we had to pay $650 only for housing, transfers, excursions, and meals) - this was a substantial amount which we didn't expect.
And after, I had a dream:
I dreamed that I was on Victory Square in Vinnitsa, Ukraine and a balloon was launched there. A strong wind was blowing and the balloon was very unstable. And in that dream, I thought how could they even launch it? One of the people who launched the balloon said that for one injection into the balloon we spend 1.8 liters of gasoline. Then the police drove straight to the balloon.
I understood that the balloon is our journey to Israel, the wind and the police are some circumstances that will oppose our journey. 1 - this is God who gives 8 - the ability to overcome human abilities.
When we flew to Tel Aviv, we were met by that harsh wind in the form of Israeli customs. I do not want to tell all the "charms" of the conversation. But one thing that I'll say emotionally is that it's very difficult and not easy. But the fact that I know for sure that God stood behind us, although everything went against us. But in the end, they let us in and it was the first miracle from God that we saw on Israeli land! More than half of our aircraft passengers were deported.
And we, exhausted by a night flight and customs inspection, got on the bus and drove to Jerusalem. When we got to Jerusalem it was already 8 o'clock in the evening. We knew the address, but we did not know at which stop to leave and where to go. Suddenly, a man came into the front door of the bus with a pile on his head, he stood beside me and smiled. I asked him if he does not want to sit next to me? - because there was free space near the window. He happily agreed. And then he began to ask us where we were going and where we were from? After, he said that we were on the road and he would show us the way. The man brought us all the way to the house, then he showed us, with his hand, one building and said that he was inviting us to the synagogue tomorrow. He hugged each of us, blessed and quickly left. In the morning, we explored that place, there was no synagogue and this man was clearly not with us on the way there, the house in which we lived was as if on the outskirts of a dead end. This was the second miracle that we saw in Israel - God sent an angel to meet us! Why did we still conclude that it was an angel? This man was all shining and was unusually happy for us! He was happy as a child! His eyes were on fire! And then I thought: "What amazing people are here in Israel!" Afterwards, we communicated with many Jews and Arabs, they were very good people, but this person was very special to us.
God really was very kind to us! An incredible impression was left by the Sea of Galilee. We were able to visit the Garden of Gethsemane, also at the gates of grace, where I had a strong experience from God. When we returned from the garden and approached the Gate of Grace. I experienced God very much, and God told me: "I so want to come!" I realized that through this gate Jesus entered Jerusalem to go to the cross later. And I began to cry like a child, experiencing the heart of our Jesus, and felt that we really were on the verge of His return! And I know for sure that Jesus is not going to wait another 100 years. I am now 45 years old, and I believe that I will see admiration for the church with my own eyes.
God set the heart of the leader of the Jewish mission that he did not take a penny from us for accommodation and food. We did not pay for any excursion!
We returned a few weeks later to Ukraine... Miracle of healing <<< continuation. 
meeting an angel, meeting an angel stories, meeting with angel investors, meeting an angel quotes
meeting an angel in person, meeting an angel on earth, how to get a meeting with an angel investor
meeting a angel, meeting guardian angel stories, first meeting with angel investor, meet the angels, meet my angel, meet with angels, angels we meet, Jesus God